News & Events
128th Annual Maine PHCC EXPO
Maine's largest industry trade show! 
Augusta Civic Center, Augusta, Maine
When: March 24th
12:00 PM – 4:00 PM
There will be over 100 exhibitors eager to show you the newest products and technology in the market today, along with code updates on the Fuel and
Plumbing code as a seminar on Air to Water Heat Pump Technology.
Every year the show gets bigger and better and our goal is to always improve. Again this year there will be 2 seminar times for the fuel and plumbing code seminars to allow everyone a seat and to prevent the room from becoming too hot.
Plan now to be a part of Maine PHCC's exciting 128th Annual Exposition. In excess of 100 PRODUCT DISPLAYS , Code Seminars, Prize Drawings throughout show, Manufacturer Giveaways, lunch, tee-shirt, Apprenticeship Contest, Plenty of Free Parking.
"Best Show in New England"
Don't miss the opportunity to talk with Wholesalers, Manufacturers and Manufacturer's Representatives and Service Providers. Stay on top of the newest products and technology in the market today.
WIOA Grants: A Valuable Resource for Your Training Programs
December 21, 2022
By Mark Valentini, Director of Legislative Affairs – PHCC-National Association
The Workforce Innovation and Opportunities Act (WIOA, originally Workforce Investment Act [WIA]) was reauthorized in 2014, continuing a popular workforce grant program originally started in 1998 to help jobseekers find employment and training opportunities to secure work in high-demand fields. With the current workforce shortage, combined with shifts in the post-pandemic labor market, WIOA is becoming increasingly popular with jobseekers and training providers.
Grant money is awarded by state and local workforce investment boards (WIBs), which is administered by the U.S. Department of Labor with funds appropriated by Congress. The program makes up about $3 billion of the DOL's roughly $12 billion annual budget. Robust funding for WIOA is one of the few bipartisan issues on which most Members of Congress can agree. Funding for WIOA continues to increase year after year regardless of which party is in power in Washington, D.C.
Jobseekers use WIOA grants to enroll in training programs that lead to secure employment. They are directed to certain job training programs through their local WIB. Those training programs must lead to employment in high-demand fields. Jobs that qualify as "high-demand" vary from state to state and locality to locality. Each state and local WIB maintains a list of in-demand fields for the regions they oversee. That list is determined by the state or local workforce development board.
Inclusion in a state's eligible training provider (ETP) list can help a workforce board direct jobseekers to your apprenticeship program. Reach out to your state or local workforce board for more information and to let them know that you are ready to enroll students into your program. WorkforceGPS is also a DOL resource to help you navigate and leverage federal workforce investment programs.
Several state PHCC executives have reported that they have students enrolled in their apprenticeship programs via the Workforce Innovation and Opportunities Act. This can offset or eliminate the costs of the program that are often borne by employers and training providers.
Contact Mark Valentini, PHCC Director of Legislative Affairs at valentini@naphcc.org or 703-752-9871 for more information, or if you would like to share your experience working with your state/local workforce board.
Granite Corp Receives 2022 PHCC "Safety First" Award
October 12, 2022
By Federated Insurance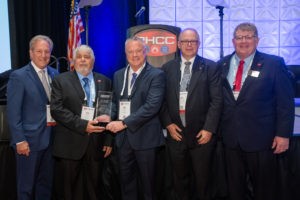 (Owatonna, Minnesota) – Federated Insurance is proud to announce their 17th annual "Safety First! Plumbing-Heating-Cooling-Contractors (PHCC) Contractor of the Year Award" on Oct. 7, 2022, during the Annual Business Meeting of the PHCC association's national convention, PHCCCONNECT2022, in Charlotte, North Carolina. This year's recipients are Kevin Purnell and Mike Levenseller, co-owners of Granite Corp, serving the Oakland, Maine, area since 2002.
The Safety First! Award recognizes a PHCC contractor who takes advantage of Federated's risk management assistance to effectively implement sound risk management practices. Each year, hundreds of clients are eligible to receive this prestigious honor, but it was Granite Corp's continued dedication to keeping safety a top priority that help them stand out.
President and Co-Founder Kevin Purnell and the company's 56 employees embrace a culture of safety as they continually review projects as a team, identify potential risks, and work to ensure proper training and safety protocols are followed every step of the way. The business makes use of Federated's risk management resources regularly, including Federated DriveSAFE(SM), a telematics solution for clients that is geared toward impacting employees' daily driving habits through motivation, knowledge, and awareness. "Knowing this device is in place makes our employees think about it, along with their actions behind the wheel, and this alone helps make them think of safety and proper driving expectations," Purnell noted.
He emphasized how valuable access to reliable risk management resources is when it comes to his employee's day-to-day safety. "We appreciate the connection we have made with Federated, and have found that over the years they have many benefits and much greater levels of safety products and tools available that we can use on a daily and weekly basis to share with our internal and external employees and customers here at Granite Corp."
Congratulations to Granite Corp for earning Federated's Contractor of the Year Award through their diligent attention to Safety First!